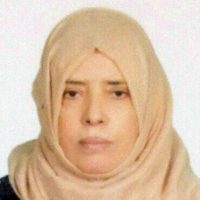 Ebtesam Abdul Rahman Rashid Alhowidi
Education& Qualification:
Doctorate of Commerce ( Social Insurances)
Topic: (Comparative Study of Pension Scheme Between
(Yemen & India) from Dec. 1998 to March 2003, from the
University of Dr. BabaSaheb Ambedkar Marathwada,
Aurangabad, India.
MA. in "Economics" from 1995 to 1997 ,from the
University of Pune. Pune city, India. (with Good grade.)
Bachelor of Commerce (Economics) Faculty of Commerce,
Sana'a University, Yemen, from 1983- 1986. (Excellent grade,
with honors, first rank)
Activities achieved:
A research titled: (Employment Budget in Education Sector for Knowing the employ mental Jap between Men and
Women Focusing on the Two Governorates Sana'a and
Shabwa'a , Yemen.
A term-paper titled; (Economic Globalization and its
Impacts on Social Insurances & Security in Yemen.
Participating in several conferences, symposiums, and
Workshops on poverty and economic status of women in Yemen.
4 .Participating in the third Ministerial conference on "Women's Role in Development of OIC Member States. Tehran, Dec .19 – 21, 2010.
Issues:
A book titled; Mathematics of Finance & Investment.
2 .A book titled; Insurance & Risk Management.
Extra:
Knowledge in English and computer.