Sana'a University and CAC Bank: Enhancing Cooperation and Interaction
Posted by

Categories

news

Date

November 26, 2021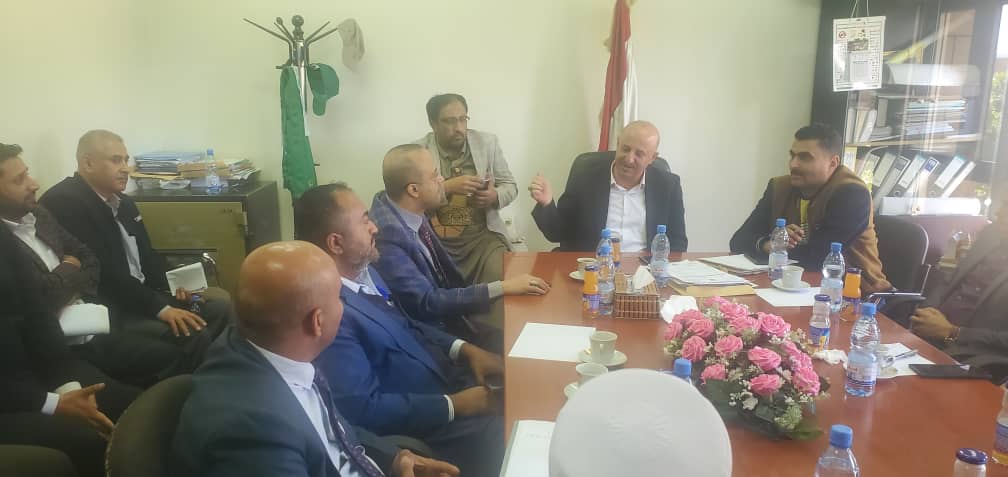 Yesterday, Monday, Sana'a University Rector, Prof. Al-Qassim Mohammed Abass, discussed with the Chairman of CAC Bank Board of Directors, Mr. Ibrahim Al-Houthi, at the University Headquarters, aspects of cooperation and mechanisms of interaction between the University and the Bank in the field of electronic banking services that provide facilities for students and the University administration.
In the meeting, Prof. Al-Qassim pointed to the importance of enhancing cooperation between CAC Bank and the University, stressing on the necessity of benefiting from the modern e-finance services provided by the Bank, in a way that contributes to regulating resources, overcoming imbalances, and obtaining advanced financial services that transcend the obstacles created to the national economy by the Aggression.
Meanwhile, the Chairman of the Bank Board of Directors, Mr. Ibrahim Al-Houthi, was briefed, by the University concerned officials, on the University's required services for students' fees collection, electronic networking and banking accounts. He stressed the Bank's efforts, through electronic banking services, to keep pace with recent banking developments in the global financial system, with a view to providing advanced financial services that overcome many problems, especially amidst the exceptional circumstances the country is undergoing at present. He also showed the Bank's concern to provide all the necessary services and facilities that meet the University's needs regarding financial and banking transactions that would enable students to make use of modern electronic services, especially fees payment in the application for admission through e-portal, as well as the University tuition fees through Mobile-Money Wallet, which has been connected with SAR system (Student Academic Record), in collaboration Yemen Center for Information Technology in Higher Education (YCIT-HE) and other universities. This will help in providing quality services including e-payment technology and secure mobile financial operations.
The meeting concluded with an agreement to form a joint team from the Bank and the University to study and complete further steps related to the e-finance connection to collect the University fees, and develop appropriate financial proposals and solutions. They also need to prepare an agreement on the mechanisms of regulating the process of tuition fees collection in the University centers, Distance Learning Center and Graduate Studies.
The meeting was attended by Mr. Abdul Karim Al-Wali, Director of Financial Affairs, Mr. Faiz Saeed, Account Manager, and Mr. Mukhtar Al-Shehari, Director of Information Systems, from Sana'a University.  The team of CAC Bank included Mr. Ibrahim Al-Awlaki, Director of Electronic Money Department, Mr. Wadi' Al-Sabri, Member of the Development Construction Committee, and Mr. Ali Hamdan, Director of CAC Bank-Sana'a Branch, in addition to a number of specialists from the University and the Bank.