Workshop on the Strategic Plan (2022-2024) for the Center of Public Administration Development
Posted by

Categories

news

Date

December 21, 2021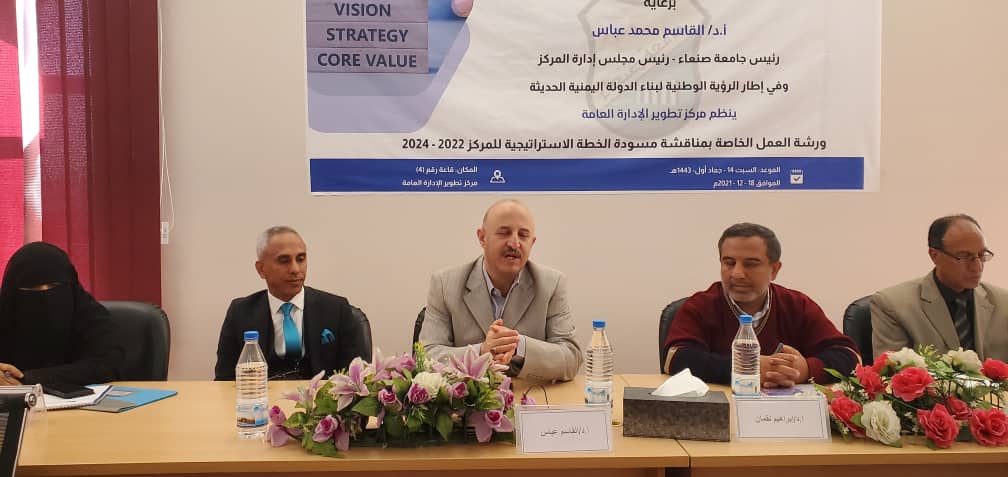 The Center of Public Administration Development, Sana'a University, organized a workshop for reviewing its draft strategic plan of 2022-2024.
Prof. Al-Qassim Mohammed Abass, the University Rector and Chairman of Board of Directors of the Center of Public Administration Development, commended the efforts exerted by the concerned people who produced the strategic plan of the Center in a manner characterized by quality and efficiency.
He called on all the University faculties and centers to make use of what has been achieved in the Center, and to enhance their relationship with the Center with a view to contributing to the building of the administrative capacity of the university.
The strategic planning consultant and Center Director, Dr. Monther Ishaq, reviewed the methodology under which the strategic plan was prepared and highlighted the prominent outputs of the panel discussions in which a number of academics, advisers, strategic planning experts, university management leaders, academic and administrative staff of the Center, partners, and targeted students and institutions participated. The workshop came out with a number of recommendations and suggestions to improve the strategic plan of the Center.