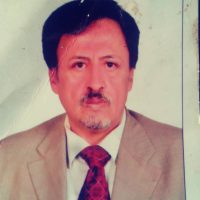 Isma'el Mohammed Ali Al-Mahkeri
Associate Professor
Personal data:
Place & date of birth: Capital Municipality – 1960
Marital status: Married.
Address: Capital Municipality – University Street
Mobile / watts: 778070000
Qualifications:
Bachelor of Sharia and Law, University of Sana'a 1987
Master's degree diploma system, Zagazig University, Arab Republic of Egypt 1990/1991 .    Diploma in Private Law 90/91.
-Public Law Diploma 91/92.
-PhD in rights, Cairo University 1996.
Experiences: 
Teaching assistant at the Faculty of Education, Sana'a University, 1989.
Assistant teacher 1993    Assistant Professor 1996 .
Associate Professor 2006 .
Thesis:  
Exemption from civil liability in the civil law compared to the Egyptian civil law. Researches that were promoted to associate professor
Determining the error and adjusting its criteria in legal jurisprudence compared to Islamic jurisprudence.
Published in the first issue of 2005 Journal of Legal and Islamic Studies, Sana'a University.  Unpunished legal protection from arbitrary conditions.  Research published in the Kuwaiti Law Council, Kuwait University, 2006.
Books that have been authored and shared
Insurance in kind and personal 2002.
Al-Wajeez in the right to property in Yemeni civil law.
Beacons Security 2000 Library Secretary.
Personal skills and abilities:
Desire and ability to acquire new and useful skills at work.
Training to work under pressure in special circumstances.
Ability to work within a team.
Dealing with social personality types.
Seriously strive to succeed in performing any tasks assigned to me.
Respect labor laws.
Integrity and good behavior.
Other Members