[ditty_news_ticker id="11141"]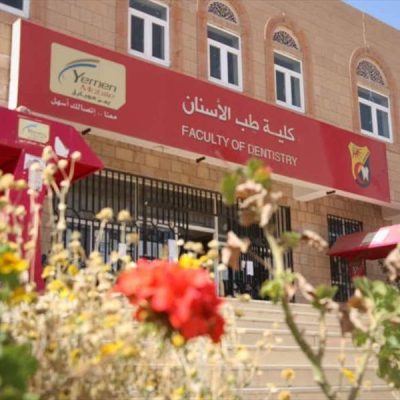 An Overview about the Faculty
The study of dentistry was introduced to Sana'a University in the academic year 1996-1997 by virtue of the University Council's Resolution, regarding the establishment of the Faculty of Dentistry at Sana'a University as a sub-division of the Faculty of Medicine and Health Sciences, the Department of Dentistry. The purpose behind establishing the Faculty was to supply the labor market with dentists who are able to contribute positively to the process of modernization and development in the fields of health services at the local and regional levels.
The University, in coordination with WHO, developed all the respective studies and plans. Then, the WHO nominated Prof. Kamal Abbas from the University of Khartoum, Faculty of Dentistry, to assist our University specialists in laying the general foundations for the Faculty of Dentistry. He also assisted in the selection and admission of the first group of dentists who applied to join and work in the new faculty.
 It is a great privilege to me to join Sana'a University as the Dean of the Faculty of Dentistry, and a member of this great university under the supervision of the distinguished University Rector, Prof. Al-Qassim Mohammed Abass. I am glad to convey my warmest congratulations to the entire team and members of the university, especially those of the Faculty of Dentistry, for their continued success in academic and scientific achievements. The Faculty of Dentistry is one of the premier institutions of dentistry in Yemen. It seeks to produce qualified cadres in the fields of clinical application and scientific research who can contribute significantly to enhancing scientific knowledge in multiple fields and specializations within dentistry studies, dental education, and dental services in the University clinics, hospitals, clinical trials, and other medical practices with a view to increasing the impact factor for the Faculty and the University as well. The Faculty members in our Faculty, who are academically affiliated to schools in different countries, are working hard to improve the quality of education and increase the frequency of academic and scientific papers publication. Besides, the members of the administrative staff are very cooperative, supportive and respond promptly to whatever serves the academic and research process in the Faculty. The main objective of the Faculty of Dentistry is to keep on constant development and improvement in order to meet the highest academic requirements, promote clinical services and scientific research in the field of dentistry, and inspire future researchers to contribute towards the development of our University by conducting and publishing high-quality scientific research. The Faculty of Dentistry has developed significantly and remarkably in a short period. Therefore, I expect further success for our Faculty so as to be ranked as one of the best dental schools in the world. Finally, I welcome all students to apply for joining various majors and programs of the Faculty's Bachelor and Master Programs.
Dean of the Faculty of Dentistry