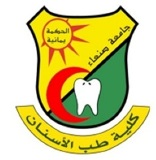 Latifa AubadNaji Al-Najjar
أستاذ مساعد
Personal Information:
Gender
:
Female
Nationality
:
Yemeni
Marital status
:
Married
Address
:
Sana'a –  Republic of Yemen
Telephone number
:
(00967)773803233
Summary:(A brief profileSummary of the faculty member at least 3 lines)
Education:
Working as an assistant professor of oral diagnosis and radiology, faculty of dentistry, Sana'a university )from 2016 to now).
Experience:
1-            2016; Doctor Degree in oral radiology, Suez Canal university, Egypt.
2-            2011; Master Degree in ways of diagnosis and oral and maxillofacial radiology, Mansoura university, Egypt.
3-            2003; Bachelor's Degree in Dentistry, Sana'a university, Yemen.
Other Members