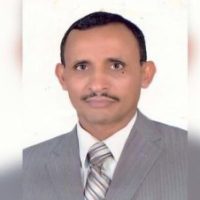 Dr. Abdullah Al-Tayeb Saleh Al-Noor
Summary:
PhD in accountancy from RTM Nagpur University, India, assistant professor in Center for Academic Development and Quality Assurance, Sana'a University, participated in many work shop related to a quality and accreditation, teaching number of accounting courses   in bachelor and master accounting programs in many private universities.
Education:
2004-2010   PhD in Accounting, Faculty of Commerce, RTM Nagpur University, Nagpur, India.
Title of Thesis "The Effects of Inflation and Changing Prices on the Conventional Financial Statements in Yemeni Companies (1991-2005).
2001 to 2003     Master in Accounting and Taxation, Pune University, Pune, India.
1991 to 1995       Bachelor in Accounting, Sana'a University
| | |
| --- | --- |
| Course | Company |
| Advance Diploma in computer Accountancy | APEC,Hyderabad-India (April 2010). |
| Diploma  In Gulf Accounting  Packages | APEC,Hyderabad-India (March 2010). |
| SAP-FICO | Inum soft Ltd, Hyderabad-India(Dec2009-March2010). |
| Proficiency in Computerized Accounting( Tally9) | AICPR, Pune, India( March-May2008). |
| Computer Program Diploma | Modern Scientific Center,Sana,Yemen (January –December 1999). |
Experience:
Professional Experience
License permitted of Public Accountant issued by Ministry of Industry and Trade, Sana'a ,2014.
Accountant in Dar Alshokani for Printing and Publication (1995 To 1996)
Chief of accounts in Alyamama Company for Hotel and Tours Services (1996 to 2000).
Administrative Expenses
Manager of Vice Rector Office of Sana'a University, (1996 To 2000)
Head of Secretary department of vice rector office, Sana'a University, (1991 to 1996)
Conferences and Workshops :
Work shop on "Preparation of Course Specification", Center for Academic Development & Quality Assurance, Sana'a University 2013.
Training course on "Professional Development of Academic Professors" (Eighth session), Center for Academic Development & Quality Assurance Sana'a University, December 13-29,2014.
Work shop on "Training of Preparing Specification of Academic Program", Center for Academic Development & Quality Assurance, Sana'a University, 2014.
The Quality Week in Sana'a University" Council for Quality Assurance and Accreditation in Higher Education, Sana'a University, February 2-6,2014.
Work Shop on "Preparation Self-evaluation of Faculty of Medicine and Health Sciences, Sana'a university, council for r Quality Assurance and Accreditation in Higher Education, Sana'a University.
Participation  on  the Training course "Professional Development of Academic Professors" (Ninth session ), Center for Academic Development & Quality Assurance, Sana'a University, February 6-16,2016.
Work Shop on Statistical data analysis Using SPSS, Center for Academic Development & Quality Assurance, June 4-6,2016
Work shop on "skills of implementing self- evaluation study according to specialized programme accreditation standards" Council for Quality Assurance and Accreditation in Higher Education, Sana'a 19-20 September,2021
Research and Scientific Papers:
"Identification the Training and Professional Needs of Sana'a University Faculty Members in Light of Quality and Academic Accreditation Requirements", Studies in University Education and Quality Assurance Journal, issue no (9) 2017 (Joint research with team of Center for Academic Development & Quality Assurance)