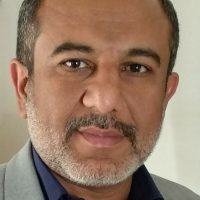 Ibrahim Ghalib Hamood Loqman
Assistant Professor
Place and Date of birth: Zabid town – Alhodiedah governorate, 7-9-1972
Marital Status: Married with 7 children (4 males, 3 females)
Education:
B.Sc physics, Babylon University, Iraq, 1995
M.Sc physics, Hyderabad University, India, 2002
Ph.D in theoretical physics, King Saud University, Saudi Arabia, 2011
Experience:
Teaching: Ministry of education: Secondary school mathematics teacher 1995-1996
Faculty of Science: Demonstrator 1996-2000, Lecturer 2002-2005, Assistant Professor 2011- …
Authorship: head of the mathematics team, self-learning program, Ministry of education 2017
Administrative experiences: Vice Dean of the faculty of Science for student affairs 2016-2019
Dean of the faculty of Science 2019-2020
Vice Rector for graduate studies and scientific research 2020-…
Conferences and Workshops:
Research and scientific papers:
H. A. Alhendi, and I. Gh. Loqman, "The Standard Model Higgs Boson Mass: Radiative Corrections" presented at the 4th meeting of the Saudi Physical Society held in 11-12 Noveber 2008 at KACST.
H. A. Alhendi, T. Barakat, and I. Gh. Loqman, Phys. Rev.D82, (2010) 053008 [hep-ph/1005.0536].