About the Faculty
Faculty of Commerce & Economics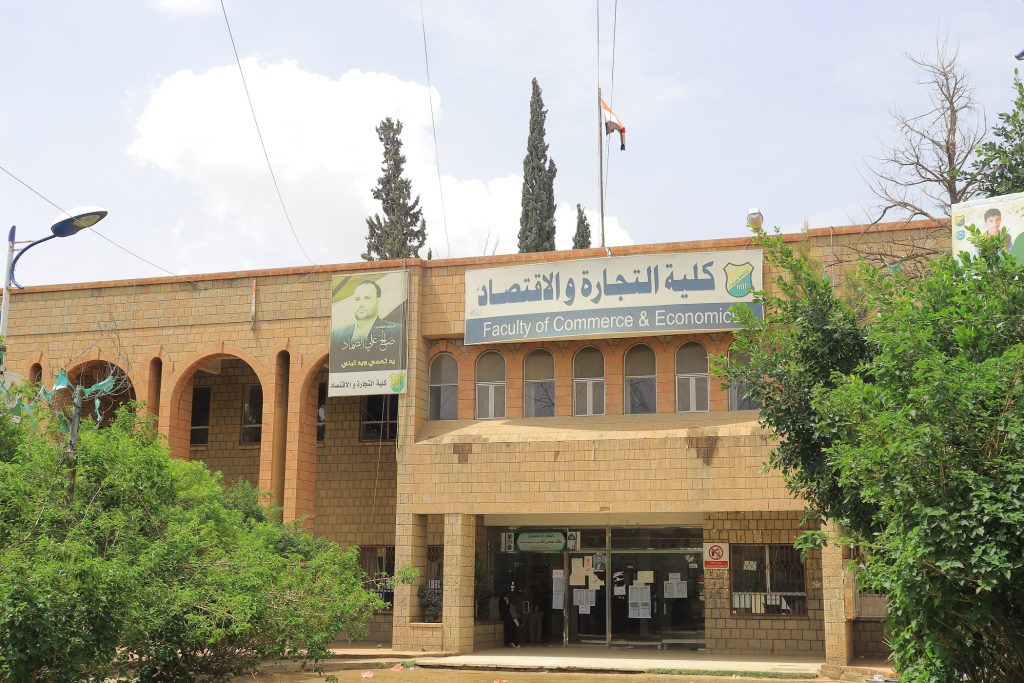 The Faculty of Commerce & Economics was established in the academic year 1973/1974. It is located on the University New Campus in the Capital Secretariat (Sana'a). The duration of study is 4 years. The Faculty accepts 3,500 fresh students annually; 1,500 students are admitted to the General System, 1500 students to the Parallel System (in the afternoon), and 500 students to the Self-Financed System. In order to join the faculty, a student is required to have a minimum grade of 75% in the high school certificate.
The Faculty has five scientific departments as follows:
Accounting Department
Business Administration Department
Economics & Finance Department
Political Science Department
Statistics & Information Department
The following academic programs are taught in these departments:
Bachelor of Accounting
Bachelor of Business Administration
Bachelor of Marketing
Bachelor of Political Science
Bachelor of Statistics & Information
Bachelor of Economics
Bachelor of Financial & Banking Sciences
Master of Accounting
Master of Business Administration
Master of Political Science & Public Administration
Master of Economics
Master of Financial & Banking Sciences
Master of Statistics
Moreover, the faculty is in the process of opening PhD programs.
The Faculty has been issuing a bi-annual scientific journal regularly since 1979.
Integrity, transparency and accountability
Sincerity, commitment and a sense of responsibility
Innovation and newness
Mutual respect
Cooperation
The Faculty seeks to continuously prepare and qualify distinguished graduates in the fields of Accounting, Business Administration, Economics, Political Science and Statistics to meet labor market needs and keep pace with the recent developments in society.
To excel in providing distinguished academic programs in all scientific disciplines of the Faculty to meet the needs of the local and regional market, and effectively contribute to the sustainable development of Yemeni society.
Highly qualifying students at the intellectual, professional, research, and ethical levels;
Updating and developing academic programs and courses in line with the needs of the labor market, and incorporating scientific and technological developments;
Fulfilling the quality and accreditation requirements in accordance with NARS;
Automating the Faculty services in the areas of teaching, administration, finance, student and graduate affairs;
Expanding graduate studies programs in all disciplines in the Faculty;
Supporting scientific research activities and directing them towards problem-solving of work environment in government agencies, public institutions and business companies, with a view to providing solutions to those problems and ensuring improvement of the performance level in these entities; and
Offering consultancy services and training to meet the needs of public and private institutions, business and finance companies, and local and international organizations.
Photo Gallery
Faculty of Commerce & Economics, Sana'a University