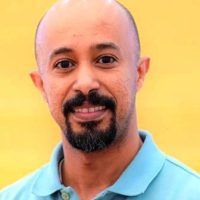 Basheer Hamed Hamood Al-Shameri
Assistant Professor
Personal Information:
D.O.B: August 26, 1982
Nationality: Yemeni
Sana'a, Hada city
Mobile: In Yemen  + 967 772859565
Summary
studied dentistry at Guangxi Medical University _ China until completed doctoral study in dentistry (in endodontics) from the same university. During the study, participated in publishing several research papers. I also participated in the international forum and competition held at the Sun Yat-sen University – china for doctoral research. Furthermore, I  won the second-class reward of excellent research from The First Guangdong-Hong Kong-Macao Greater Bay Area Stomatological Postgraduate Academic Forum for the year 2018. After graduation, I worked as a faculty member ( assistant professor in endodontic) at the Emirates International University and Queen Arwa University (Sana'a. Yemen). Currently, I am an assistant professor in endodontic at the faculty of dentistry of Sana'a University.
Education:
1998 high school (scientific section)
2001 Certificate of Chinese Language Proficiency – Beijing
2006 B.D.S Degree, Guangxi Medical University – China
2011 Master's Degree in Clinical Dentistry (Endodontics), Guangxi Medical University – China
2019 Doctorate in Dentistry (Endodontics) Guangxi Medical University – China
Experience:
2008             worked as a dentist in a private clinic
2012-2014,   worked as a dentist in a private clinic and in  Al-Numan Center as a specialist in endodontics
2019-2021 Assistant Professor in endodontic at Emirates International University – Yemen
2019-2021 Assistant Professor in endodontic at Queen Arwa University – Yemen
2020-2021 Assistant Professor in endodontic at Saba University – Yemen
2020-2022 Assistant Professor in endodontic at Sana'a University – Yemen
Conferences and Workshops:
Participated in the China-ASEAN Forum on Dentistry for the years 2010, 2012, 2014, 2016, 2018
2018  The Eleventh Conference of Chinese Stomatological Association of Endodontics held in the province of Hunan
2020 Participated in the workshop devoted to preparing the curriculum for Ibn Alnafis University – Yemen
2021 participated in the workshop devoted to curriculum development for the Faculty of Dentistry at the Emirates International University – Yemen
Research and scientific papers:
Research
2011  The Apical Sealing Ability of GuttaFlow: A Comparative Study in Vitro(main researcher)
2014-2019 Therole and the mechanism of SDF-1/CXCR4 axis in regenerative endodontictreatment  (main researcher)
2018-2021  Participated in the preparing and writing of the work《 the role of exosomes produced by LPS stimulating human dental pulp stem cells in pulp regeneration》Supported by a grant from the National Nature Science Foundation of China (funds:340000 Chinese Ren min bi )
published article
XY Li,GF Ban,B Alshameri, et al.: High-temperature Requirement Protein A1 Regulates Odontoblastic Differentiation of Dental Pulp Cells via the Transforming Growth Factor Beta 1/Smad Signaling Pathway. Journal of Endodontics, 2018, 44(5): 765- 772.
Wu Zhouling, Basheer Hamed Hamood AL-Shameri, et al.: Biological characteristics of stromal cell-derived factor-1/CXC chemokine receptor 4 signal axis. Chinese Journal of Tissue Engineering Research, 2019;23(9):1434-1440.
Wei Huini, Basheer Hamed Hamood AL-Shameri, et al.: Safety of linagliptin application in the pulp revascularization. Journal of Guangxi Medical University,2019(4)