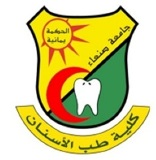 Eman  Mohammed Abduljalil Gylan
Teaching Assistant
Personal Information:
Date of birth:1982
Mobile : 778025219
Education:
*Bachelor's degree in dentistry, Sana'a University ( 2004-2005)
*3rd year master's student, Sana'a University
Experience
* Worked at Al- Manar Center during the period 2006-2007.
* Teaching assistant at the Faculty of Dentistry, Sana'a University, since 2008, I worked in educational clinics in the conservative department.
*I have been working in  privateclinic ( (timoorDental and Dental Surgery Clinic) since 2010 tell now.
Conferences and Workshops:
* The course of the distinguished trainer for faculty members in the Department of Conservative Therapy, Faculty of Dentistry, Sana'a University, from 1-4 November 2020
* Training course in diode laser in dentistry 24/1/2021.
*Training course of CBCT in dentistry 4/2/2021.
* A course in computer management at Sana'a University from 24/6/2006- 6/9/2006.
Research and scientific papers:
A scientific paper entitled "In vitro evaluation of the antimicrobial activity of five herbal extracts against Streptococcus mutans" has been published as an abstract of my  master's thesis.
My article has been published in Universal Journalof Pharmaceutical Research, Volume 7, Issue 1.
Available online on 15.03.2022 athttp://ujpr.orgUniversal Journal of Pharmaceutical Research