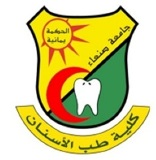 Kadija Ahmed Omer Bamashmoos
Master's
Personal Information:
Birth Date: 1986
Summary:
Education:
Bacheloros in dentistory 2009.
Master in peadiatric dentistory and prevention.
Experience:
Supervisor in orthodontics and pediatric dentistory department since 2010.
Teacher in orthodontic and pediatric department since 2020
Conferences and Workshops:
SUDIC 1
Research and scientific papers:
Prevalence of premature loose of primary teeth and its relation to caries, nutrition and oral hygiene in sana'a city (cross sectional study).