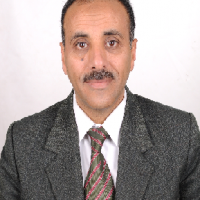 Abdulhameed A. Ashuja'a
Summary
Associate Professor of Applied Linguistics- Teaching Applied Linguistics courses and Translation courses at BA and MA programs; and supervising MA and PhD studies in Applied Linguistics and Translation (See below)
Vice-Dean for Quality Assurance: Faculty of Languages, Sana'a University
(Responsible for staff capacity building in the area of program and course specifications in accordance with the standards of quality assurance and academic accreditation, as well as training on teaching skills and evaluation)
Education:
2001- 2004 D. in Applied Linguistics (in the field of English for Specific Purposes), Deccan College, India. Dissertation Title: "Business English in Yemen: An Empirical Study of Needs Analysis"
2000- 2001 Post-Graduate Diploma in Teaching English as a Second Language (TESL), CIEFL, Hyderabad, India.
1997-1999 A. in Linguistics, Deccan College, India.
1988-1992 A. in English, College of Education, Baghdad University, Iraq.
Experience:
Since I received my PhD degree in 2004, I
Have been teaching a number of courses for undergraduate students.
Have been teaching courses for graduate students of translation and linguistics, including Research Methods and Advanced Academic Writing
Have participated in a number of workshops, seminars, symposia and conferences, locally, regionally and internationally.
Have reviewed a number of research articles for local and regional academic institutions.
Have supervised a number of MA and PhD theses and dissertations at my university and other local universities.
Have been an internal and external examiner for a number of MA and PhD theses and dissertations.
Was the deputy-editor of the academic journal published by the Center for Development and Quality Assurance (2008-2011).
Am affiliated to local journals as a language editor of English articles.
Have participated in committees responsible for evaluating newly opened universities and study programs.
Have been supervising the development of study programs and courses at the Faculty of Languages in accordance with standards of accreditation and quality assurance
Conferences and Workshops:
Conferences, Symposiums and Workshops attended:
Date
Venue
Theme
July 31, 2019
Yemen Academy for Graduate Studies, Sana'a
Developing University Vision, Mission and Objectives
Nov 28-29, 2018
Sana'a University
Academic Development and Quality Assurance
March, 8-10, 2012
TESOL Conference, Dubai, UAE
Achieving Excellence through life skills Education
June, 2009
University Education Development Centre, Sana'a University, in collaboration with the British Council-Sana'a
English for the Workplace
June, 2009
English Department, Faculty of Languages", Sana'a University
Evaluating English Programs
April, 2008
IATEFL Conference, Exeter, UK
English Language Teaching
November, 2007
Sana'a University, in collaboration with the British Council-Sana'a.
ESP in the Developing Countries
2006
Faculty of Languages, Sana'a University
American Literature
2005
Faculty of Languages, Sana'a University
Business Communication
2004
Faculty of Languages, Sana'a University
Globalization and ELT in Yemen
2001
CIEFL, Hyderabad, India
Teaching English in Multilingual Contexts
Research and scientific papers:
Date
Journal
Research Title
Volume 25, Issue (4), December, 2019
Journal of Social Studies, University of Science and Technology. Sana'a- Yemen
Translating Arabic Verb Patterns from Arabic into English: A Morpho-Semantic Study (Third Author)
Volume: 7 Issue: (3), July 31, 2019
International Journal of Comparative Literature and Translation Studies. Australia
Exploring Strategies of Translating Metaphor from English into Arabic with Reference to Scientific Texts (First Author)
Jan. 2018
Global Journal of English and Translation Studies, Aden University, Aden, Yemen
Cohesive Reference in English-Arabic Translation of Business Texts
Dec. 2016
Sana'a University Journal for Educational & Psychological Science, Sana'a, Yemen.
Workplace Written English in Yemen: A Class-based Analysis of Accident Reports
2011
A Chapter in Current Developments English for Work and the Workplace: Approaches, Curricula and Materials, IATEFL, UK

https://www.garneteducation.com/product/current-developments-in-english-for-work-and-the-workplace-approaches-curricula-and-materials/

Teaching Business English in Yemen: What and How?
2011
Journal of English for Academic Purposes 10/3 (2011) pp. 200-202, UK.

https://www.sciencedirect.com/science/article/pii/S1475158510000603

Review of Current Developments in English for Academic and Specific Purposes in Developing, Emerging and Least-Developed Countries
2009
A Chapter in Current Developments English for Academic, Specific and Occupational Purposes in Developing, Emerging and Least Developed Countries, IATEFL, UK

https://www.amazon.ae/Developments-Academic-Specific-Developing-Countries/dp/1901095177

The Status of ESP in Yemen
2008
Professional and Academic Newsletter, IATEFL, UK
Review of New Inside Out (Pre-intermediate Student's Book)
2008
Professional and Academic Newsletter, IATEFL, UK
Review of The Business (Pre-intermediate Student's Book)
2005
TITAS Journal, West Bengal, India
Review of English Idioms in Use
2003
Business Issues Newsletter, UK
Review of Cambridge Business English Activities
2003
JEFL Journal, Hyderabad, India
Motivation in EFL