Crime Fiction: A Critical Study of Selected Novels by Agatha Christie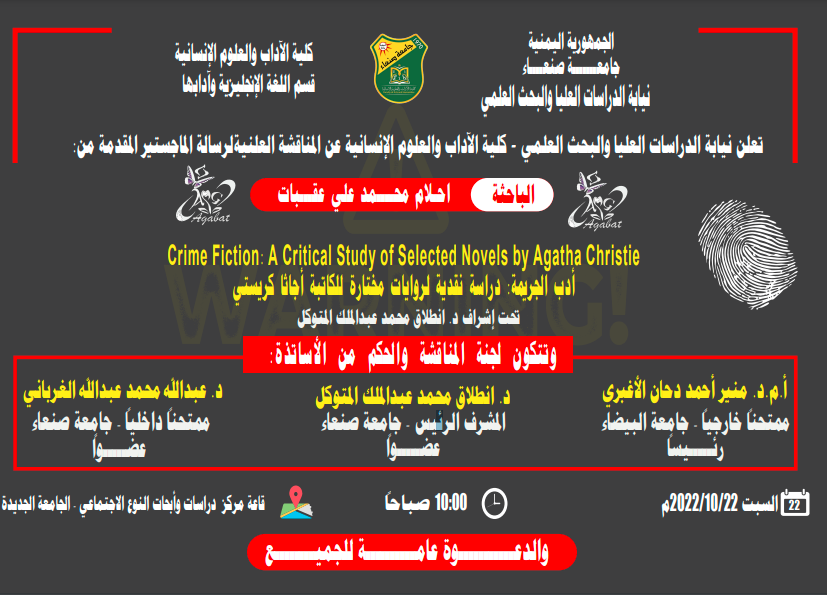 Abstract
Even though the genre of crime fiction is neglected and seldom mentioned in schools or academic studies, this study is a serious attempt to shed light on its importance as a remarkable kind of literature – should meet concern in the university studies and the academic researches – as well as its impact on the reader's logical thinking and the intellectual processes. It is also a valuable contribution which based on laborious and long effort that gathered the analytical-critical study and the genre's needful references – for any researcher – in one place.
It is important to mention that improving the brainstorming processes through the story's clue-puzzles is also one of crime fiction purposes especially for those who are interested in this genre as readers or researchers. However, crime fiction is known as the escapist literature of the life burdens which gathered the entertainment and the suspense in one place. This genre shows perfectly the writer's ability in controlling and directing the readers' emotions up and down as he/ she wants. Crime fiction stories reveal the criminal's way of thinking or his sly tricks and consequently reveal them and achieve justice by the detective (the hero). Thus in crime fiction, the more complicated puzzles the more popularity for the writer and his/ her works. This thesis shows all that through the two selected works of the novelist Agatha Christie the woman of the mystery.
This thesis is divided into five chapters: Chapter 1 is the introductory observations to this thesis. It includes the introduction, objectives, research methodology, scope of this study, significance of the study, review of the published literature, and the study outline. Chapter II is a brief history of crime fiction, a glance about Agatha Christie, the elements of crime fiction, characteristics of crime fiction, themes of crime fiction, differences between crime fiction and detective fiction, and the categories or sub-genres of crime fiction. Chapter III And Then There Were None as Crime Fiction, Chapter IV Murder on the Orient Express as Crime Fiction and Chapter V is the conclusion and the findings.