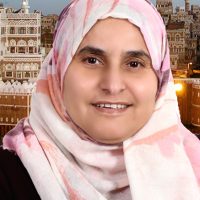 Najat Jumaan
a university professor in the field of business management, finance and financial markets and institutions, financial institution management, strategic management, human resources development, I teach at the level of bachelor and master in private and public university. I supervised many theses in the level of MBA at Sana'a university and Aden University many of them in microfinance researches. I also have long experience in managerial level in private business and in government institutions. I also did many researches published in many academic research journals. My experience at the university as a lecturer added values to my theoretical back ground as well as my scientific logical analysis in the field of finance and business. I have the opportunity to be the Chief Executive Officer for the Economic opportunity funds. The fund is financed by IFAD, EU and Islamic Bank. The main objectives of the fund is to develop the value chain for the vegetables honey and coffee, beside I was responsible for the project of youth employment which has two components the microfinance institution developments and small and micro business developments. My private sector experience has also provided me with depth knowledge about private sector development, business development, Sector analyses, Project Management and import and export trade. Being the vice dean of the financial institute, the financial institute manages a significant issue, we tackle and participate in developing budget sensitive to gender issues, I also participate mainly in executing the ministry of finance strategy in public finance development related to budget preparation and execution in Yemen. We are responsible for human resource development, I also participated in drafting the law of stock market and financial leasing law in Yemen. Besides, I am also active in the federation chamber of commerce and the chamber of commerce in Alamana District. Such experiences have enabled me to become very familiar with sources of obstacles in private sector and the type of business opportunity exist in this sector and dealing with issues in developments. Working for the private sector as the vice general manager for finance and administration until 2005, as well as consultant, I have gained sufficient experiences in the private sector in the area of finance and management in different areas. I also have many years of experience doing researches in financial management, financial institution, corporate governance, women in family business, economic developments. I also have many consultancy assignments with the GIZ, UNDP and other international organizations. I also provided many consultation and research with the IFC, UNDP, GIZ in the areas of private sector development corporate governance, institutional building and economic development issues.
Institution

(Date from – Date to)

Degree(s) or Diploma(s) obtained:
Sanaa University, Sanaa, Yemen 1979 – 1983
Bachelor degree in business administration with Honor.
Azuza Pacific University, California – USA , 1986 – 1989

Master degree in business administration GBA 3.6 (A Grade)

Cairo University, Cairo – Egypt, 1993 – 1995

Ph.D. Qualification courses.

Courses included advance issues in financial management, production management, marketing research, management information system, operation research, and managerial economics.

Suez Canal University, Sues Canal

Egypt, 1995 – 1999

Ph.D. In business administration.

Thesis title is " The effect of the environmental transformation on the financial structure of companies: Applied to food industries in Yemen"
Indicate competence on a scale of 1 to 5 (1 – excellent; 5 – basic)
| | | | |
| --- | --- | --- | --- |
| Language | Reading | Speaking | Writing |
| Arabic | Excellent | Excellent | Excellent |
| English | Excellent | Excellent | Excellent |
Membership of professional bodies:
Member at the Industry Development Higher Committee.
Member of the Banking and Exchange rate Committee at the Federation Chamber of Commerce.
Member of Yemen Management Association.
Member of the task force for developing the family corporate governance.
Guidance at Yemen Businessman Council.
Member of the technical committee assistance for the stock market project establishment.
Member of Businesswomen forum at the OECD Paris.
Member of Yemeni Women's Pact for Peace and Security, UNWOMEN .
Member of Chamber of Commerce membership at both Sana'a and Taiz
Member at the Yemen Industry Association
Head of the Businesswomen department at the Federation Chamber of Commerce.
Other skills:
Applying research methods and tools.
Computer skills in using word, excel, PowerPoint,
Using the Statistic program for social science (SPSS)
Using computerized accounting system
I am the charwomen of the Concept Investment Consultancy, Company it is a firm specialized in research, consultancy and training in many areas of developments. and General Manager of Yemen Feed. I am also Professor of Management teaching and supervising in many areas of speciality in business such as financial management, Strategic management, risk management and other business courses at public and private universities
Years of Expertise: more than 17 Years
Specific experience in the region and internationally:
| | |
| --- | --- |
| Country | Date from – Date to |
| Jordan | 2003 (short mission) |
| Egypt | 2001-2002(short mission) |
| Saudi | 2006-2013 (short missions) |
| Australia | 2006-2007 ( academic visit to Griffith university) |
Date from – Date to
Location
Institutions
Position
Description

August-oct 2020
Sanaa, Hodeida, Hadramout Aden
UNWOMEN
Local Expert
Doing research on the effect of Covid-19 on women economic participation and empowerment. The main responsibility is to design the research doing the previous studies review and field study , design the study tools such as the interviews and expert focus study , writing the research .
2018 – Today
Jordan
UN Special Envoy to Yemen
Consultant
Provide consultancy to the special envoy in the issues related to peace process in Yemen, mainly the economic issues , like central bank conflict , salaries .
2019- today
Yemen
Adra -Yemen
Consultant
Public relations, advocacy and communication consultant. Works with management, project managers to identify the challenges faced with authority in the country and solve all the issues raised by the authorities to help in implementing the projects and get the needed permissions
11/2017 – today
Sanaa
Professor
Lecturing and supervising theses
Developing course curriculum, teaching courses, preparing exam, correcting the exams, and supervising Theses at the master and PhD level .
3/2016- 11/2017
Sanaa
Sanaa University
Dean of faculty of commerce and Economics
Directing the faculty including planning, organizing, supervising, and controlling all the activities in the faculty of commerce. I am managing about more than 150 professors, more than 20000 students.
2015-today
Sanaa-Yemen
Yemen Academy for Higher Education
Lecturer
Prepare the curriculum, teach, prepare the exam and correct them for many courses titled "Recent Issues in Finance and Financial Markets". And 'Financial Risk Analysis and Management". Beside, Supervise MBA research.
2011- 2013
Sana'a –

Yemen

Aden Free Zone Authority
Member of the board of director
Board member representing the Ministry of Finance. The main activities is to work with the board members to prepare yearly plan, supervise management, study and approve the regulations and procedures, study the risks facing the authority and identify the solutions.
2010-2012
Sana'a- Yemen
Economic opportunity fund
Chaif Excutive Officer (CEO)
Responsible for directing the fund and achieve its objectives in all the projects functions. The main objective is to develop the value chain for the coffee, honey, vegetables, and fishery.
2011- today
Sana'a

Yemen

Sana'a University –

Faculty of commerce and economics

Member of the faculty council
Representing the faculty members at the board. Participated in all decision taken in the board. These are approving the faculty plan, solving issues raised by the deanship related the financial situation of the faculty , approving the advancement of the academic faculty.
2010-2013
Sana'a

Yemen

Yemen Stock Market Establishment Unit

Ministry of Finance

Consultant
Provide consultancy on the issues related to Stock market
2009-today
Sana'a-Yemen
Industry Council

Ministry of industry

Memebr
Participate on putting the industry strategy In Yemen, Help in solving problems face industry sector in Yemen
2008- today
Sana'a, Yemen
the Executive Master in business administration Canter, at Sana'a University
Associate professor
Develop the curriculum , teaching preparing the exam and correct the students books for the courses taught such as the financial markets and institutions.
2007- Today
Sana'a, Yemen
Faculty of commerce and economics, department
Associate professor at Sana'a University
Preparing, teaching and preparing exams for courses in Financial Management, Financial institution management, Principal of management, strategic management, and other courses in management.
March 2005 – 2013
Institution Of Finance, Ministry Of Finance, Yemen
Vice Dean
Handling the technical issues and designing training and human capacity building.
2006-2007

Australia
Griffith University, Griffith Business School, Department of Accounting, and Finance & Economics
Visiting Scholar
Doing research on business failure predictioon in general and in Yemen in specific.
1999 – Today

Sanaa – Yemen
Yemen Feed Company
General Manager
Supervising the company activities based on its yearly objectives
1999-2005
Sanaa – Yemen
Mohamed Ahmed Jumaan Corporation
Vice General Manager
Management and Financial Development at the Company
1999-2001
Sana'a

General Institute Of Communication
Professional trainer
Provide training courses in management
1999 – today
Sana'a Yemen
Sana'a University .
Professor assistant.
Teaching courses in the Business Administration department.
1992 – 1998
Sana'a Yemen
Mohamed Ahmed Jumaan Corporation
Accounting Supervision

Working part time during the vacation, to supervise the accounting department
1990 – 1991
Sana'a Yemen
Jahran poultry
Vice Chairman
Managing the daily work in the company
1989 – 1992
Sana'a Yemen
Sana'a University
Teacher
Helping professors and work in workshop in management courses
1983 – 1984
Sana'a Yemen
Sana'a University
Teacher Assistant

Helping the professors and work in workshops in the courses of financial management, production management, and marketing research
"Financial management: Practical Approach|" In Arabic, 2003, First edition.
" New Approach to Financial management" In Arabic , 2017, Second Addittion.
1- "A model for Predicting economic failure in Yemeni Companies" In Arabic, Published in the journal of faculty of commerce, Sana'a university 2006.
2- "Analysing the External environment of Yemeni Private Companies" In Arabic, Published in The Journal of faculty of commerce, Sana'a University 2002.
3- "The effect of financial system on economic system: case of Yemen" presented in the conference in "Emerging Financial Markets & Services ASIA – PACIFIC" In Australia May 2004, and submit a paper titled "Financial Market Development and Economic Development: Case of Yemen" University of Western Sydney, School of Economics & Finance, Black town Campus.
4- "Role of Women In Family Business : Theoretical and Practical Prospective In Yemen " In Arabic , Published in The journal of Faculty of Commerce and Economics, Sana'a University, Vol 44, Sept2015, P53-118.
5- "The Relationship between the Characteristics of the Board of Directors and Performance of Companies with Reference to Yemeni Banks" Under publication in The journal of social Studies, Vol. Issue , Sept 2017.
6- "Model Measuring The Relationship Between The Risks and The Performance In The Financial Institution: Case of Yemen Banks" Accepted for publication in The Scientific Journal for the Commerce Faculty , Al- Azhar University ,Vol. (17) June 2017.
7- " Theoretical Model For Implementing Scientific Management To Achieve The Council Of Arab Economic Unity Objectives" Published in The journal of Faculty of Commerce and Economics, Sana'a University, Vol 47, Mar 2017, P53-118.
8- "The Partnership Between The Private Sector and The Government: Is It Integration Or Conflict? "Published in the Proceeding Of the Conference Of Yemen Economics: Yemen –Economy – Future" Yemen Center For Strategic Studies In Sana'a 25-27 Oct 2010.
1- "Women Participation in Micro and Small projects in Yemen" In Arabic, the study was carried out for the GTZ in Yemen, Small Entrepreneur Promotion Project, 2002.
2- " Financing Small Project: case study" in Arabic, Carried out for the Cabinet of Ministers, Social fund for development, 2003.
3- "Challenges facing businesswomen in financing' in Arabic, Carried for the Chamber of Commerce in Almukal,2010.
4- "The Role of the Private sector in economic development " A paper presented to the conference titled Yemen Economic Conference 2010, Sana'a , Yemen Center for Strategic Studies.
5- "Women in Family Business" A paper presented at the conference Titled the Third Family Business Conference : Fathers Wisdom and Sons Effectiveness" Sana'a. Yemen Business Club, Nov 2012.
6- other studies published in professional journals and presented at different conferences.
14- Training and skills development:
-Attended a training program in the micro finance, Bahrain 2008.
Develop program and course syllabus of the executive MBA at Maastricht school of management for Sana'a university faculty of commerce, business administration executive MBA Program. Maastricht, Holland. Other training courses in management.
– Interactive training program for interactive teaching Maastricht school of management, Maastricht, Holland
– Attend training program with the Yemen Higher Council of Academic Accreditation, Ministry of Higher Education.
– Training with the IFC in the corporate governance as a consultant and trainer.
Attended many training programs in SPSS, Office programs and other software.
15- Research Supervisions:
I have Supervised many research at Sana'a University ,Aden University as well as Twentic university , Faculty of management and accounting at the level of Executive master In Business Administration, Master In Business administration and PhD in many topics in management, finance and strategic management.
16- Consultancy:
I provided many consultancies in many topics such as capacity building v, institution building, gender issues, private sector issues and others. many meeting are with a group meeting with UNDP, GIZ, ILO, WB and other government agencies and ministries.