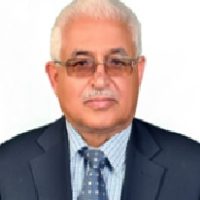 Ahmed Kaid Salem Thabet
Associate Professor
Personal Information:
Name: Ahmed Kaid Salem Thabet
Date of birth: 08/08/1956
Place of birth: Alarook district/ Taiz governorate
Nationality: Yemeni
Language: Arabic/English/ Romanian language
Address: Sana'a- Alsabeen District
E-mail: Ahmed.Thabet@su.edu.ye
Telephone number: 00967772535053/ 00967733760019
Date of entry to the faculty: 25/06/1994
The actual academic degree: Professor
Date of obtaining the academic degree: 20/09/2021
Department: Internal medicine
Specialty: Physician
Subspecialty: Hematology and oncology
Summary of the CV:
I was graduated from the faculty of medicine Bucharest university Romania in 1985. I worked in the military hospital as part of national defense service for one year. After that I worked in Al-Thawra teaching hospital as a general practitioner for 2 years. Again I traveled to study in Romania and I got Clinical MD in 1992. I worked in Al-Thawra teaching hospital as a hematologist consultant and I was assigned as head of Hematology section. I was nominated as a lecturer in the faculty of medicine Sana'a university in 1994 and I got promotion to professor in 2021. I was assigned as deputy of head of internal medicine in the faculty and academic coordinator for clinical training in the internal medicine department  for students of MBBS, Master and Doctorate. As well I was assigned supervisor on many research of Master students. I published many papers research and I participated in many conferences, workshops  and symposiums national and international.
Education and Certificates:
| | | | | | |
| --- | --- | --- | --- | --- | --- |
| Degree | Date | Specialty | Subspecialty | Faculty | Country |
| MBBS | 1984 | General medicine | General | Bucharest | Romania |
| MD Part I | 1990 | Hematology | Hematology | Bucharest | Romania |
| MD Par II | 1992 | Hematology | Hematology | Bucharest | Romania |
Experience and social activity:
| | | |
| --- | --- | --- |
| No | Activity Type | Date of starting |
| 1 | Professor of Hematology and Hemato-oncology | 1992 |
| 2 | Hematologist consultant in Al-thawra Hospital | 1992 |
| 3 | Assistant of head of medical department of faculty of medicine | 1996 |
| 4 | Assistant of head of medical department in Al-thawra hospital | 1996 |
| 5 | Academic coordinator of Sana'a University MBBS students in Althawra teaching hospital | 2996 |
| 6 | Academic coordinator of Sana'a University Master students in Althawra teaching hospital |   |
| 7 | Academic coordinator of Sana'a University Doctorate students in Althawra teaching hospital |   |
| 8 | Academic coordinator of Sana'a University Clinical MD students part I in Althawra teaching hospital |   |
| 9 | Trainer and supervisor of Yemeni board in Althawra teaching hospital |   |
| 10 | Trainer and supervisor of Yemeni board in Althawra teaching hospital |   |
| 11 | Member of the scientific council of Yemeni oncology society |   |
| 12 | Member of the Romanian society of hematology |   |
| 13 | Member of the European of Hematology Association (EHA) |   |
Participation in Conferences and Workshops:
| | | | |
| --- | --- | --- | --- |
| Activity | Site &place | DATE | NO |
| Update in Breast cancer | London | 1999 | 1 |
| Safety of blood transfusion | Sana'a | 19/04/2003 | 2 |
| Blood transfusion conference | Sharja | 04/05/2005 | 3 |
| Conference of allergy and clinical immunology | Sana'a | 25/05/2005 | 4 |
| Meddle east oncology conference | Kula-lumpur | 05/03/2006 | 5 |
| Meddle east oncology conference | Singapore | 15/02/2007 | 6 |
| The Pan Arab Breast Cancer Symposium | Amman | 28/06/2007 | 7 |
| 2ND annual Heart Failure Symposium | Sana'a | 26/11/2020 | 8 |
| 3ND annual Heart Failure Symposium | Sana'a | 10/02/2022 | 9 |
Academic Degrees Obtained in the Faculty of Medicine:
No
Academic Degree
Date of Obtaining
Duration
1
Lecturer
25/06/1996
5 years
2
Assistant Professor 
21/04/1999
15 years
3
Associate Professor
15/12.2014
7yeaas
4
Professor
20/09/2021
2 years
5
In addition to work in the ministry of health as GP and specialist in the period 02/02/1986 – 25/06/1996
8 years
6
In addition to work in military hospital as a general practitioner

In the period 05/05/1985 – 02/02/1986

1 year
Research and scientific papers:
| | | | |
| --- | --- | --- | --- |
| No |  Date of publication |  Name of the Journal |  Title of research |
| 1 |  Jan-June 2004, Volume(1),Issue(1),37 |  Sana'a University Journal of Medial Science |  Pattern of gastrointestinal tract malignancy at Al-Thawra Hospital-Sana'a 1998-2001 |
| 2 |  January 2009, Issue 5, 22 |  The Gulf Journal of Oncology |  Prevalence of HCV among Yemeni patients with Non Hodgkin's lymphoma |
| 3 | July 2012, volume 18/N0.7,693 |  Eastern  Mediterranean Health Journal |  Hepatocellular Carcinoma in Yemeni patients: A single centre experience over 8 years |
| 4 |  Apr-Jun2013Volume 8, No. 2,1 |   Iranian Journal of Parasitology |  Effect of School based treatment on the prevalence of Schistosomiasis  |
| 5 |  August 2012, volume (4),No(2),pp 46 |  Sana'a University Journal of Medial Science |  Clinical Manifestation and Laboratory Profile  of Brucellosis among Yemeni Patients |
| 6 | 12/06/2020 | Saudi J Medicine | Risk Factors Associated With Acute Coronary Syndrome among Patients Admitted to the Coronary Care Unit in the Military Cardiac Center – Sana'a-Yemen |
| 7 | 08/06/2020 | W J Pharma Research | OUTCOME OF PATIENTS WITH CHRONIC HEPATITIS C INFECTION, TREATED BY DACLATASVIR AND SOFOSBUVIR AT MILITARY HOSPITAL, SANA'A, YEMEN |
| 8 | 2020/03/30 | W J Pharma Research | EFFECTS OF KHAT CHEWING ON PATIENTS WITH AUTOIMMUNE HEPATITIS: OBSERVATIONAL STUDYMILITARY HOSPITAL, SANA'A. YEMEN  |
| 9 | 2020 | Hematology  & Blood Disorders | Correlation of cyto-morphology with flow cytometric immunophenotyping in acute leukemia's: A Comparative study. |
| 10 | 2021 | SUJMS | Blood transfusion practices at Al-Thawra   Teaching  Hospital, Sana'a-Yemen  |
| 11 | June 2014 | Pan Arab Journal of Oncology | Breast Cancer among patients admitted into Al-Thawra Hospital in Sana'a -Yemen |