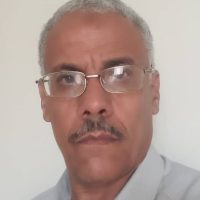 Abdul Hafez Abdullah Ali Al-Selwi
Assistant Professor
Name: Abdul Hafez Abdullah Ali Al-Selwi
Email: ab.Al-Selwi@su.edu.ye
Certificates:
B- MB.BS. Rawalpindi Medical college Punjab University 86-87 Pakistan
C- Clinical MD. Khartoum University Sudan
Experiences:
Military service: Alhudaidah Military Hospital1989-90
Rural health service Gihana Medical Center1990-91
Demonstrator in internal medicine Sanaa Medical College1991-94
Assistant professor Sanaa Medical College 1997-2005
Coordinator of Arab board  program of intensive care medicine for two years 2002-2004
Coordinator of diploma program of internal medicine ministry of health 2005-2006
Coordinator of Yemeni specialization certificate of internal medicine ,ministry of health from 2006  till now
Head of Medical Department Althowrah Teaching Hospital 2001-2005 ,
Associate professor of internal medicine Sanaa Medical College 2006 -2012
Professor of internal medicine Sanaa Medical College 2013 until now
Coordinator of PH D. degree of internal medicine Sanaa  Medical college ,Sanaa University from 2011-2020
Supervisor of large number of PH. D, and master degrees desertations
Examiner for PH D, and Master degrees,
Trainer for Arab Board candidates at Althowra teaching hospital
Conferences and workshops:
Course in the problem based medicine Sana,a technology university 16-20 august 1998
Course in the problem based pharmacology teaching for university teachers Aden 1-4/Nov .1999
The 2nd Yemeni Italian conference Hadramout 2003
The 38th annual meeting of Europian association for the study of liver diseases-Geneva;3-6July2003
The 3rd Yemeni- Italian conference Aden15-16 Nov2003
The 1st Yemeni diabetic association conference 11-13Feb.2003
Workshop on malarial controle program 8-9 Oct.2003 Sanaa
Pan-Arab Gastroentology week 13-17 Jan 2004 UAE
The 4th Yemeni Italian medical conference 18-20 Jan.2004 Sanaa R.Y
The 1st Middle East inflammatory Bowel disease symposium 3-4 Mar.2004 Amma n Jourdan
The 12th European gastroenterology week 25-29 Sep.2004 Amsterdam
The conference of the Gulf states medical associatins Al-Riadh 12-14 Mar.2005
Workshop on continuous medical education 12 l 3 l 2005 King Faisal Research center
The 1st Yemeni –Saudian conference on immuonolgy Sanaa 11-12 May 2005
6 weeks Training course in upper and lower GIT endoscopy from 27 Feb.-14 April 2006 Theodor Bilharz institute Egypt.
The annual Egyptian Gastroentrology and hepatology conference Kairo Egypt 25-29 Mar.2006
Liver diseases at Cross roads of civilization East meets West conference held in Kairo from 5-6 april 2006
Pan Arab gastroentrolog and hepatology Conferencs Beirut Lebanon 6-9 Jun.2006
Europian week of Gastroentrology Veinna Austria 18-25 Oct 2008
The 3rd Yemeni gastroenterology conference in Sanaa city 18-19 Feb.2009
The direct acting drugs on HCV Bociprevir in Estanbul 24-25 2012 Turkey
Papers and researches:
1 Hepatitis B and C among hospital staff at al thowra teaching hospital Sanaa Yemen.Yemen Medical Journal.Vol 4;(1):October 2001:pp61-67
2 Right sided Infective Endocarditis complicated by bilateral pyopneumothorax Yemen YMJ.vol4;(1);Oct.2001:pp73-76
3 awareness and attitudes of physicians twards Evidence Based Medicine .JABMS;vol.7 (2);2005:pp163-168
4 HBs Ag and Anti HCV Ab among patient with chronic liver disease at Althowra general hospital JABMS;Vol 7(2);2005:pp121-126
5 Pattern of hematological diseases diagnosed by bone marrow examination in Yemen, a developing country experience .International Journal of Cli.Lab.Hem.2006;28:pp367-381
6 Pattern of Tuberculosis Patients at Al thowra hospital Sanaa Yemen .Yemen J.Pharm.Biol.Sci.vol1; (1):2007;pp42-50
7 Isolated Pituitary Sarcoidosis simulating macradenoma.Sudan Med.Journal;vol 44,(1,2,3 ).2008.pp69
8 effect of chewing Katt in changing circadian rhythm for acute M I patient in Sanaa city and its rule as a risk for MI. JABMS;vol10;( 1);2009pp28-33
9 association of Hepatocellular carcinoma with HBs Ag and HCV Ab among Yemeni patient at Al thowra hospital .Sudan JMS; vol4(3);Sep2009;pp237-241.
10 effect of Kat and other factors in the control of BP, in treated patients. YJMSR
11 Hepatic Hydatid Cyst rupture in to biliary tree presented as anaphylaxis and obstructive jaundice.Sanaa UJ of medical Sciences.Jan2012;Vol.4 (1);pp107-110
12 Peutz Jegher Syndrome presented as intermittent gastric outlet obstrucition and Ilio Ilial intussusception.Sudan JMS;Mar 2012;Vol.7(1);131-134
13 Vasoactive drug use in comparison to night injection sclerotherapy in Yemen. ABJMS;2012;Vol 13(2);pp18-24
14 latent tuberculosis among health care workers ,at althowrah teaching hospital .JABMS