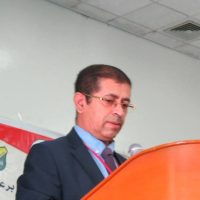 yahya ali ali ghanem algoothimy
Teatcher
Personal information:    yahya ali    ali  ghanem  algoothimy  born   at houth city  amran governorate  at   1970  .
Adress    sana'a  city     aljeraaf  zone   777172050
E.mail   y.algothimy@su.edu.ye
Summary:
Gastroenterologist hepatologest   consultant  and endoscopist   associated professor  of  internal  medicine   head of yemeni syndicat   sanaa  branch, head of  yemeni gastrohepatology  society,,member of  wgo.
Education:
2ndery school   1988  nashwaan alhemery houth….
m.b.b.ch   1995  sanaa  universty    medical  colleg  ,,
Arabian board of medical  specialixation    2003,,,,,
, subspesciality of  gastrohepatology  division from  wog   2005.
Experience:   member of medical department   althowrateatching hospital sanaa
…member of  endoscopy unite,,,,,
Treaner of   medical board    2003—20011,
Head of medical department   at   defince    medical complex hospital and head of   endoscopy unite  from   2011  up to now
assistance of dean and head of clinical    training center at medical college from 2009 up 2017
dean of medical   college sana a universty 2018
Conferences and workshops:
Member  of  team  for  developing national academic reference standards  (mars)
head of yemeny conference   of gastrophepatology     for 3      annular  activity   at 2006,,,2007…and 2010.
4  atendance and participate  for  arabian conference  of  gastroheaptolyo  at  syria   lebanon  marakesh  and suadia  arabia
4  work shop  of  continous  medical education  and  osce  exam at medical colloeg  sanaa   university   medical colege
Attendanc and particepat for europain gastroenterology week
12 work shop for trianing  of endoscopty  at eygept  ,, syrea  and  jorden    under  the  observation   of     world  gastroentrelgu  organzation
Research and scientific papers:
Pattern of reflux oesophagitis  at yememi population   arabian  journal of  gastroenterology
Efficacy of rapebrazol  versus  omeprazol in preventing relaps of  erosive reflux oesophagitis  arabian  journal of gastroenterrology
Vasoactive drug use  use in comparison to  night injection sclerotherapy in acute variceal bleeding  in  yemen ..journal  of the arab   board of health specialization  2012
Evidance based medicin in yemen   journal  of arab councel of medical  specialization
Upper gastrointestinal cancer  in yemen  : ahospital based study sana a university  journal of medical  sciences
Prevalence and associated  factors  of intestinal paeasitic infection in basiic school childrens in sanaa   yemen  sana a university  journal of medical  sciences
Prevalence of hepatitis b and c viral infection among patients attending to the endoscopic clinic at al-thowrah hospital in sana'a city, yemen…global journal of gastroenterology and hepatology  2018.