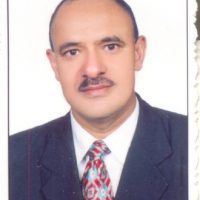 Ali Abdullah Kaid
Associate Professor at the Department of  Economics & Finance – Faculty of Commerce and Economics– Sana'a University
Educational Background:
1983
·        Bachelor's degree of Commerce , majoring : Economics and Political Science – Sana'a University with very good   grade and honor degree
1988
·        Preliminary Master of Commerce – Alexandria University
26/11/1991
·        Master of Commerce – Faculty of Commerce – Alexandria University – Egypt – thesis entitled " micro industries development barriers in the developing countries , Yemen as a study case '
1993
·        Preliminary PHD in Economics – Alexandria University – Egypt
1997
·        Qualification of PHD – Alexandria University – Egypt
27/4/1999
·        PHD in Economics from Alexandria University entitled " developing  of self resources of foreign cash in Yemen and the role of  oil in the present and future "
Majors
·        General major:  economics
·        Micro- major:  international commerce and microenterprises economy
Academic Experiences:
1976-1978
·        Contractor in the field of teaching at the department of education in Taiz Province
3/9/1983-17/10/1987
·        Demonstrator   at the Faculty of Economics and Commerce – Sana'a University
11/2/1992-1/6/1999
·        Instructor at the Faculty of Economics and Commerce – Sana'a University
1/6/1999-12/1/2005
·        Assistant professor at the department of Economics – Sana'a University
12/1/2005 up to date
·        Associate professor at the department of Economics – Sana'a University
Academic , Scientific , Administrative and Professional Activities :
 
A-   Curricula :
 
·        Teaching undergraduate students the following curricula :
 
1-Microeconomics ( first level ) 2- macroeconomics 3- microeconomics theory ( second level ) 4- Cash and Money ( level three ) 5- Economic Resources 6- International Business ( level three ) 7- Administrative Economics ( second level ) 8- Feasibility 9- Economic Thought Development
 
·        B- Teaching Postgraduates
 
·        1- International Commerce and Finance ( Master Students ) – Sana'a University
 
·        2- microenterprises finance for higher diploma + Master students of    Financial and Accounting Administration ) – Arab Academy for Financial and Banking Science )
 
·        Supervising several postgraduate theses in both private and public universities
 
·        C- Attended Many Conferences and Workshops as a trainer
D: Researches and Studies :
Researches published at the trusted magazines :
Sr.
Researches Title
Periodicals data
Name of the magazine
Date of publishing , No. of issue and No. of page
Place of issue
1
Role of technical education and vocational training in the human resources development at the small enterprises sector
Commerce and Economics  College Magazine
Sept. 2002- March 2003 , issue ( 20) , folder ( 73-74) p.: 82-200
Commerce and economic collage – Sana'a University
2
Transmittal industries sector :  reality and requirements of development in Yemen
Commerce College Magazine for Scientific Researches
March 2004 , issue 1 , folder 41, p. 203-257
Commerce College – Alexandria University
3
Non- oil industries :  weakness of performance and barriers of growth
Commerce and Economics  College Magazine
Sept.2004-March 2005 , issue 22, page 109-154
Commerce and economic collage – Sana'a University
4
Development of investment within the efforts of improving investment climate and providing opportunities in Yemen
Scientific magazine
Dec.2007 , 43 issue , p. 222-274
Commerce College – Asyout University- Egypt
Non-published researches and studies :
Non- published researches and Studies :
1987
Participation within a team in implementing a study entitled " urban development in Yemen Arab Republic ) : an analytical field study for 10 secondary cities , funded by several parties ,executed by the Yemeni Economic Society
2000
Preparing a study entitled " Industrial Sector in Yemen "- presented to the Ministry of Development and Planning in preparing the second  fifth plan for social and economic development )( 2001-2005)
2001
 A Study entitled " developing human resources in microenterprises sector presented to support SEPP affiliated GTZ
2002
A Study entitled " the extent of attention of government on microenterprises under the changes of economic policies: field and analytical study for the governmental procedures related to microenterprises , presented to ILO
2002
Team leader of study involved in enhancing relations between productive families and their outputs , labor market and financing establishments in both Sana'a and Hodeida using PRA executed by Consultancy and Technology House
2003
Participation witin a team of researchers and academics involved in identifying the priorities of scientific fields " under the implementation of Higher Education Ministry
9/2005
A Study entitled " youth unemployment : reality – risks – treatment " presented to the Ministry of Youth and Sport at the first conference of youth .
6/2006
A Study of auditing the public expenditure in the education , health sector  and social affairs ( vice of team leader and main researcher )presented to Ministry of planning and international cooperation , financed world bank
2010
Strategic study entitled " the reality of food security and options before the decision makers in Yemen
Studies and Researches Published in Reports :
1-    A Study related to the economic component issued by the general center for studies and researches :
a-     The Annual Strategic Report 2001 No.(1)
b-    The Annual Strategic Report 2002 No.(2)
2-    Preparing a study entitled " social problems and their impact on knowledge  acquiring " to participate in the Arab Humanitarian Development ( second report ) 2003 issued by UNDP and Arab Fund for Economic and Social Development
3-    A Study entitled " emerging Yemeni economy at the global economy " to participate at the first annual report 2004 issued by the Ministry of Planning and International Cooperation .
4-     A Study entitled " indicators of external business and attaining emerge in the global economy " to participate in the second annual report 2005 issued by the Ministry of planning and International Cooperation
5-    A Study entitled" human development and economic component to acquire knowledge " the third report of the national human development in Yemen : knowledge , culture , education and information 2004
Aug. 2006
6-    Participation in preparing the report submitted by the policy committee in the counsels of representatives and council regarding the social and economic development plan for reducing poverty 2006-2010- Sana'a ( as a counsel of the committee )
E- Participations :
Lecturing on Yemeni economy in several institutions either governmental or civil society organizations in addition to the participation on writing economic topics in periodical magazines and weekly and daily newspaper .
 
F- participation in administrative works , committees or the scientific societies inside the university or in the community :
99-2001
Head of first level control – Faculty of Commerce –Sana'a University
99-2004
Secretary of department of economics – Sana'a University
2005- up to date
member of Faculty of Commerce council , representative of teaching staff
2006- up to date
Member of assessment of the Faculty of Commerce and Economics under the a decision from the Rector of University ( 775)  for 2006
2006- up to date
Member of trustees members of Modern Science University ( Private University )
2001-2002
Member of coordination committee involved in appointing teaching staff coming from abroad ( the Supreme Council of Universities )
1986
Member of Yemeni economists society
2002 up to date
Editor in chief of Economical Studies Newspaper .
99-2000
Head of Mashraa and Wahdanan Charitable Association
11/6/2007 up to date
Member of Yemeni Egyptian Brotherhood Society.
10/11/2008
Member of equivalence of certificates at the Ministry of Higher Education
24/10/2009 -6/2010
Dean of Administrative and Financial Science at Future University ( private university )
19/3/2015
Head of Economics and Finance Department – Sana'a University
Having several merit certificates and medals from the Faculty of Commerce – Sana'a University and from different governmental and private organizations .