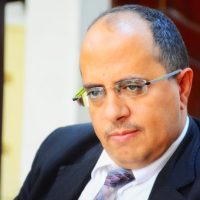 Abdulrahman Abdullah Hasan Humaid
Professor
 Personal Information : 
Name: Abdulrahman Abdullah Hasan Humaid
Address: Aldiery Sana'a-Yemen.
Date and Site of Birth: Sep.\22\ 1975. Sana'a Yemen.
Nationality: Yemeni.
Tel.: 773191011 or 77485424.
Certifications:
1- B.Sc. in Microbiology, Ain Shams University, Cairo, Egypt, 1999.
2- M.Sc. in Microbiology, Ain Shams University, Cairo, Egypt,2004..
3- Ph.D. in of Microbiology, Ain Shams University, Cairo, Egypt 2008
4-Associoated professor in Microbiology ,Sana'a University,Sana'a, Yemen, 2015.
5- Professor in Microbiology, Sana'a University, Sana'a,Yemen, 2020.
PUBLICATIONS:
My publications are as follows:
no

Title
Date of puplication  postion
1
Antimicrobial Activities of Certain Bacteria Isolated from Egyptian Soil Against Pathogenic Fungi.
Research Journal of Agriculture and Biological Sciences, 4(4): 331-339, 2008
2
·Effect of Antifungal Compounds Produced by Certain Bacteria on Physiological  Activities of Human- and Plant- Pathogenic Fungi
Journal of Applied Sciences Research, 4(4): 425-432, 2008      
3
Microorganisms Associated With Burn Wound Infection in Sana'a, Yemen
·          Egypt. Acad. J biolog. Sci., 3(1): 19-25 (2011)
4
INCIDENCE OF CAMPYLOBACTER SPECIES IN FAECES OF CHILDREN IN THAMAR PROVINCE, YEMEN
Faculty of Science Bulletin, 25 (2013) 73-82 © 2013 Sana'a University

ISSN 1684-100X

 

5
INCIDENCE OF CAMPYLOBACTER IN POULTRY MEATS AND MEAT CONTAMINATION FACTORS IN THAMAR PROVINCE.
INTERNATIONAL JOURNAL OF MICROBIOLOGY AND

IMMUNOLOGICAL RESEARCH (IJMIR) VOL. 1(1), pp. 16-29, OCTOBER 2013

6
Isolation and Identification of  Mycoflora Contaminated of Yemeni Coffee Beans

 

Egypt. Acad. J.  Biolog. Sci., 6(2): 49 – 58 (2014)

 

7
Chemical Constituents of the lichen Stereocaulon tomentosum
Egypt. Acad. J. Biolog. Sci., 3(1): 13- 17(2012)
8
Inhibition of Mycoparasitic Growth by Filamentous Nonpolyne Chitinolytic producing Bacteria
International conference on medical, biological  and pharmaceutical sciences(ICMPS2012)March 17-18, 2012 Bangkok
9
Antagonistic Effect of Camel's Urine on Some Pathogenic Bacterial Species
PSM Veterinary Research, 2016 │Volume 1│Issue 1│Pages 08-12
10
Effect of Turmeric (Curcuma) on Bacteria Isolated from Burn Wound Infection in Some Patients in Al-Jomhouri Hospital, Sana'a, Yemen
International Journal of Nanotechnology and Allied Sciences, 2018 │Volume 2│Issue 2│32-38
11
Aflatoxins and Ochratoxin A Content of Stored Yemeni Coffee Beans and Effect of Roasting on Mycotoxin Contamination
International Journal of

Molecular Microbiology, 2019 │Volume 2│Issue 1│11-21

12
THE PREVALENCE  VULVOVAGINAL CANDIDIASIS IN PREGNANTWOMEN ATTENDING SEVERAL HOSPITALS IN SANA'A, YEMEN
Universal Journal of Pharmaceutical Research, Volume 4, Issue 6, 2019
13
Study of Effect Spices on Salmonella Contaminated food as Natural

Antimicrobial Agents In Yemen's Food

International Journal of Nutritional Science and Food Technology, Volume 6 Issue 2, February 2020
14
EFFECT OF MOST COMMON ANTIBIOTICS AGAINST BACTERIA ISOLATED FROM SURGICAL WOUNDS IN ADEN GOVERNORATE HOSPITALS, YEMEN
Universal Journal of Pharmaceutical Research, Volume 5, Issue 1, 2020
15
PREVALENCE  CYTOMEGALOVIRUS ANTIBODIES AMONG PATIENTS WITH TYPE1 DIABETES MELLITUS IN ADEN CITY-YEMEN
EUROPEAN JOURNAL OF PHARMACEUTICAL

AND MEDICAL RESEARCH, ejpmr, 2020,7(4), 89-93

16
Serum HBe Ag and HBV DNA Markers among Different Stages of Chronic Hepatitis B  Patients in Sana'a City, Yemen    

 

International Journal of Innovative Science and Research Technology, Volume 5, Issue 3, March – 2020
17
PROTEASES AND LIPASES ACTIVITY OF FUNGI ISOLATED FROM LOCAL CHEESE, REPUBLIC OF YEMEN

A suite  magazine 2020
Teaching  Experience:
Courses  taught :-
Immunology
Virology
Bacteriology
Biology.
Skill and fulfillment:
 Extensive working experience in diverse areas of Microbiology.
 Supervision of graduate student in their project.
 Languages: Arabic, English.